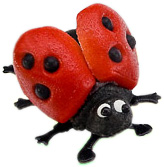 Funsch High Quality Marzipan Ladybug
Funsch Marzipan Marienkaefer
25g
Product of Germany.
Ingredients: sugar, 39% almonds, water, humectant: sorbitol, invert syrup, food coloring: curcumin, carmine red, brilliant blue FCF, carotenes, titanium white, decor with chicken egg white.
Ingrédients: sucre, amandes 39%, eau, humectant: sorbitol, sirop inverti, colorants alimentaires: la curcumine, rouge carmin, bleu brillant FCF, carotènes, blanc de titane, décoration avec du blanc d'oeuf de poule.